Hourly Package per hour U$ 12
Bali Rafting

The longest rafting trip on the Ayung river (approximately 10 km of wild river) Join a professional team for a superb white-water rafting adventure on the Ayung River. Experience a unique and unforgettable journey through winding gorges, breathtaking waterfalls, luscious jungles, and magnificent terraced rice fields. Pick up is at your hotel and includes a drive through several of Bali's unspoiled villages in the Carang Sari district. At the start site, you'll be outfitted with helmets and life-jackets. After some brief instruction on paddling and river safety, you are off to the longest and best trip on the Ayung River. Your fare includes: air conditioned hotel transfers, a delicious meal and morning coffee, complete shower and toilet facilities, and international insurance coverage. What to Bring and Wear: Bring a change of clothes and a towel, a plastic bag for wet clothes, a water-proof camera and video. A camera bag will be supplied. Wear a comfortable T-shirt and shorts or swim suit.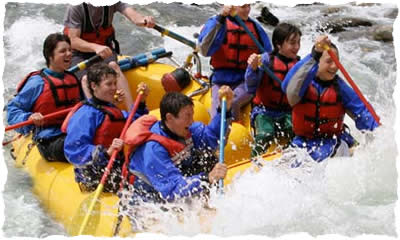 US$ 94 Adult
US$ 77 / Person (5-12 years old)
US$ 286 Family (2 Adults + 2 Children)
---
BALI WATER SPORT ADVENTURE

"Water Sports," is located in Tanjung Benoa, which is twenty minutes from the Bali airport and is well known as a main tourist destination with its clean white-sand beach. You can relax, enjoy refreshments, and play at water sports such as Banana Boat, Parasailing, Jet Skiing, Glass-Bottom Boat, Scuba Diving, Snorkeling, and Sport Fishing.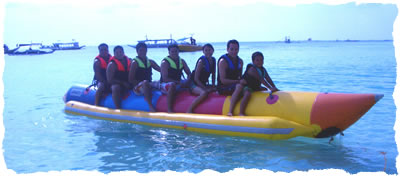 ---
BALI ELEPHANT RIDING

Feel like the king of the jungle on a unique and unforgettable journey through a tranquil forest area. Finish the safari with an exciting elephant splash in the park bathing area. The tour includes: Air-conditioned Hotel Transfer, Park Admission, Safari Ride, Buffet Lunch, a Live Show, and Insurance.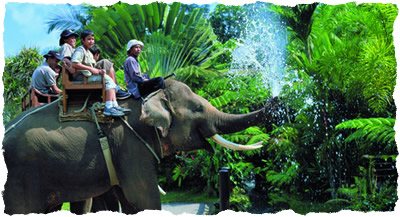 Adult:
US$ 112 for short trek;
US$ 134 for long trek Child
US$ 54 for short trek;
US$ 86 for long trek Infant:
USD 30 for short trek;
USD 42 for long trek Family:
USD 255 for short trek;
USD 395 for long trek
---
These packages are just a few samples of the many things you might wish to do on your stay in Bali. You may pick from the above or I will be happy to help you arrange your own, custom itinerary. I am very flexible and knowledgeable.